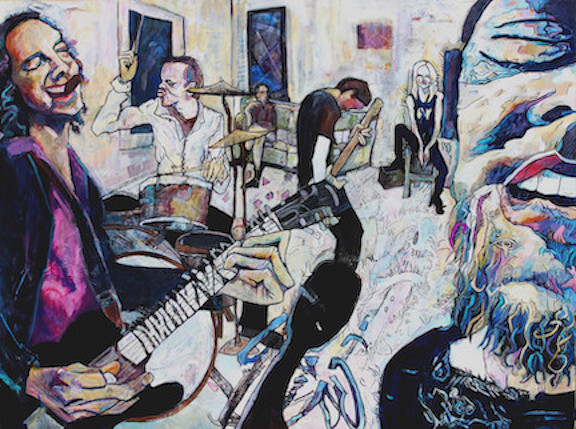 I painted this painting of "Metallica" after I got this idea. The idea was to paint a bunch of paintings of rock bands so I could possibly get into Rolling Stone Magazine. This was inspired by a juried show called Metal Bands. "Metallica" was the first of my musical group paintings. While I have not been a huge fan of Metallica, I became one as I painted. I watched the Whiskey in a Bottle video about 200 times. In this image of James Hatfield, he looks so sweet. I love juxtaposition… a sweet metal singer.
The video set in a living room and the different camera views are exciting and intriguing. I figured out and painted James Hatfield, Lar Ulrich and Robert Trujillo, however it took me several tries to get the right version of Kirk Hammett. I think it works and it is an original way of painting a group. It took me about 2 and half months to finish. It is acrylic paint on a 4 feet X 3 feet wood panel with 3/4 inch sides.
I could be a metal fan but my brain is already so loud and bothersome that I need calmer and either hopeful or critical lyrics. When I came into this world I did not get the correct glasses, I constantly feel completely odd. Not really in one easily identifiable way or another but my view is just completely my own. Often I feel completely confused by our world and the solutions we come up with. Must be all my Aquarian planets.
If you love Metallica or know a someone who does, you will love this painting. It captures the men, the attitude and a whole bunch more. The depth in perception has always been an interest of mine. Back in the day when cameras used film, I liked to use the wide angle lens as it made the objects in the foreground distortedly big. I use this quite often in many of my other paintings like: Hendrix, Janis, Grace Jones.
Figuring out how to take the depth perception with a group of people was fun. If you like this style and Metallica there are prints and the original is available. Recently I read an artist blog that said not to try and sell your work in every post, however I am going to do it anyway. Cheers my friend, til we meet again.