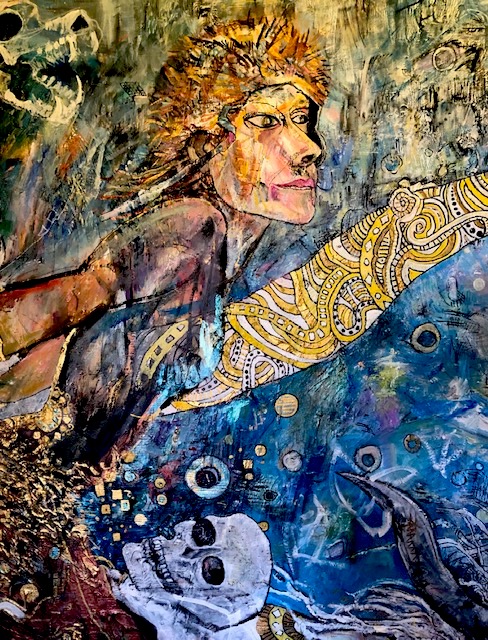 Where Klimt and Homer collide, journey to the underworld.
You will not get to see this whole painting until you become a patron. I am still working on this painting, so as a patron you would get to see the progress. Influence the outcome, possibly. Although I am stubborn and I am a bit slow to check my email. However I do believe the right comment at the right time would affect my painting.
I have been kinda crabby of late. Giving up my studio because of lack of funds pisses me off. I thought by now the world would recognize what an influence I will have, and I would be rewarded…Ha ha! I now know that the meek will inherit the earth is a load of crap. If you do not have good boundaries for all the vultures you will be taken advantage of. The only way to find peace in this world is to live according to your own standards and stick up for yourself.
This painting is about going into the underworld to retrieve a lost part of my sole. A part I lost when I was a child. I have her and we are riding out of the darkness on a white bull. The moon is making a wave path for us to help us get out.
We all have our own story that is unique to our temporary age, gender, race assignment( Quote from Carolyn Casey). I think once we accept these are temporary, we will get along a lot better. We will not be easily swayed to dislike each other and will question who benefits from this dislike. My purpose is to paint how I see. My first language was pictures and it has taken me many years to learn how to use language.
While I am not sure this post is done my brain is. So thank you for reading and I hope you will consider becoming a subscriber, or to use my term, a patron.
,