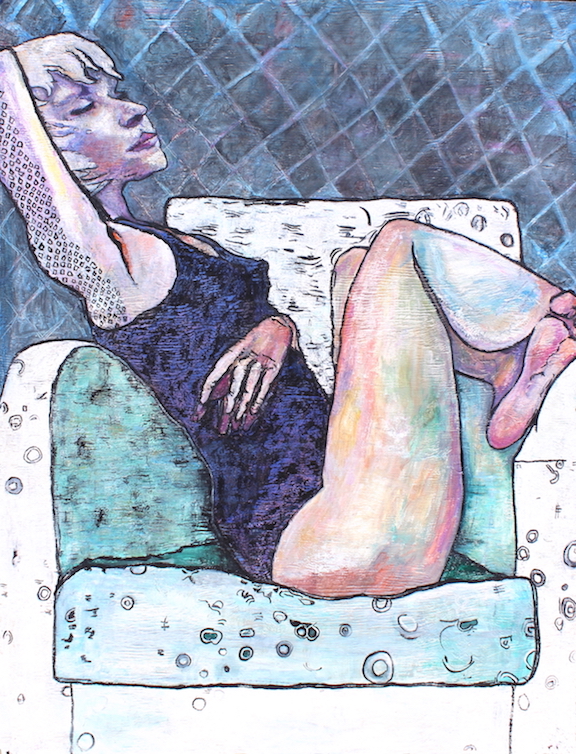 Recently I had the funniest conversation with my lover. I told him that I wanted to have higher standards and if he liked me, he would encourage me not to see him anymore.
This has actually nothing to do with this painting but it is a female way of saying the famous Groucho Marx Quote "
"PLEASE ACCEPT MY RESIGNATION. I DON'T WANT TO BELONG TO ANY CLUB THAT WILL ACCEPT ME AS A MEMBER." goucho marx
It's the yin to Groucho Marx's yang.
"I've been Klimted" an Amalee Original is not in the style of Klimt but I was kinda fascinated by his style while I was painting this painting. I took some photos at a day party in San Francisco. I captured this woman with this expression. She looked so relaxedly happy. I had to use this intriguing face and thats when I thought of Klimt. Patterns surrounding a beautiful face. While googling Klimt I found another painting that I have not found again but it was a girl in a chair with patterns. So I borrowed some from it, some from my own paintings with arms up and the face from this dance party. The diamond pattern in the background was also from my photo with the intriguing face, it was a chainlink fence.
"I've Been Klimted" An Amalee original now on display at Spressa Coffee Bar, 51 Cambon Dr. San Francisco. Come check it out with a cappuccino.