Description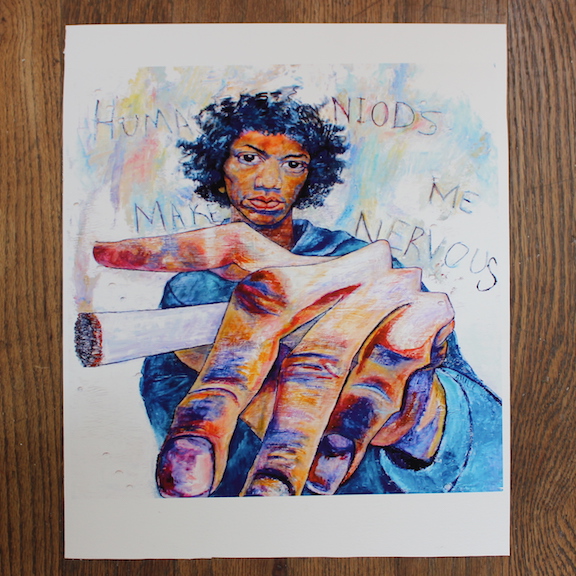 This beautiful print  "Hendi"  is made from the Original Oil Painting by Isa Amalee.  Printed on Hahnemuhle matt fine art textured paper. This top quality paper has a perfect thickness 0f 310 gsm. Printed with archival inks. Each print is signed by the artist, and stamped for authenticity.   12.5 inches X 12.5 inches image size is on 13 inches by 17 inches paper.
"When I started the "Hendi" Painting I knew I wanted the Big hand smoking, but I was going to make it a woman.  Then through circumstances I had no internet or cable so I started watching D.V.D.s of Jimi Hendrix, and then it turned into him.  Later I learned that I spelled Humaniods wrong and it seemed to fit to make my point.  Although every once in a while I think of changing it.  It does not bother me because I am dyslexic."
These beautiful prints make great gifts for all occasions.  They meet the criteria for cool and you support an artist with every purchase.   The regular price is $60.00.  If you would like a discount of $15.00 enter "beautiful" at check out.  There is a $15.00 postage and handling fee  in the U.S.A.  If you live in the bay area you can choose local pick up. And pick it up at Spressa Coffee Bar in San Francisco. I really appreciate your interest and support.