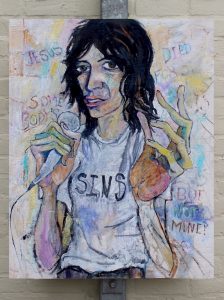 So I have $13.00 dollars in my bag, and possibly another $3.00 in change if I really dig around on my floor.  I do have about $35.00 in food stamps so I am not gonna stave.  While I use to believe that this is an artist's life,  I have realized that is bullshit. Painting was an escape from reality and now twenty some years later, it is my profession.
November 2015, I lost my job as a massage therapist, and have to face my creative self.   I needed to make this transition to be an artist.  As such it is my responsibility to speak for those people who were forced out of a profession they loved.
I had been a massage therapist for the past twenty years. and lost my job because I lost my massage certification. This was  65 % due to the "government agency"  the California Massage Therapy Council, and  35% due to my inability to run in the same way on my hamster wheel.
First we will talk about the "government agency."  I use the quotations because the California Massage Therapy Council appears to be a state licensing agency for massage therapists if you look at their website.  However they are a non profit organization that "certifies" massage therapists for the state of California.   I received my "certification" in 2011, which cost me $280.00, including  documentation and $150.00 to the CMTC for the certification.  They sent me no notification ( no email or letter) when I needed to re-certify and they sent no notification when my status changed from certified to non certified.  So after 20 years of working as a massage therapist, I lost my certification without any notification. I would now have to get 305 hours of massage school to be re-certified.
As a Californian there are questions that should be asked. How can a non profit run a state licensing agency with no standards? Where do they get their funding? Who's interests do they represent? Certainly not massage therapists.
Then there is the 35% fault which is completely mine.  100 percent of this 35% is due to  my inability to run in the same direction on my assigned hamster wheel.   No matter how hard I try to run in the same direction, I don't.  I run backwards, I skip, I like to stop and smell the roses, it is completely, beyond a shadow of a doubt, my fault.  For most of my live I have tried my best to run at the same speed and direction on my hamster wheel and finally I realize I don't WANNA.  Granted I am a bit exaggerating my desire, but even without my desire, I did try. And finally, thanks to the CMTC, I am free.
Baby was a Black sheep. I am american, I am an artist. I am an American Artist. I love Patti Smith. She da Bomb!!!!!!!!!!!!!P.S. Could you please buy an art tile or two, thank you!